How To Use This Site
youtube video
Post Your Resume
Work At Home Finder
Work From Home Moms
Survey Takers
Articles
Scams
Advertise
About Us
Free Email Job Alerts
Search for a job:
Site Help
How To Use Our Job Search Page
The following guide will help you use our Free job search database: www.WorkAtHomeCareers.com/workathomejobs/. All the jobs listed on our job search website are Free! However to keep this site free we do have advertisers listed throughout the website and they may charge a fee for there opportunities. If you run into an advertiser that charges a fee, it is not one of our free jobs! The guide below will demonstrate how to apply & tell the difference between our free jobs and advertisers.
Step 1
There are 2 ways to search.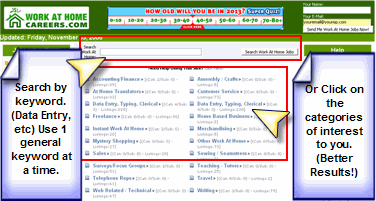 Step 2
Select the jobs of interest to you from the search results.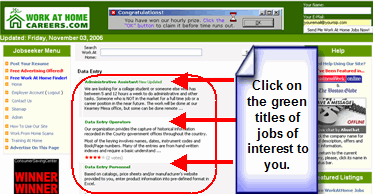 Step 3
Once you've selected a job, you will be given a full description & instructions on how to apply.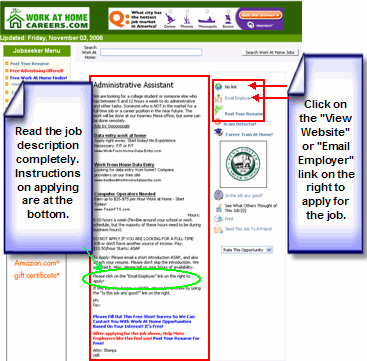 Step 4
Once you're done applying to jobs of interest to you. Be sure to post your resume, it's free & helps you find additional hidden work at home jobs!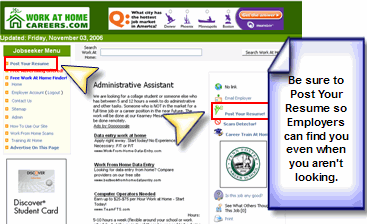 Step 5
Sign up for our free emailed job alerts. We send free work at home job leads & other work at home at home opportunities that may be of interest to you on a weekly basis.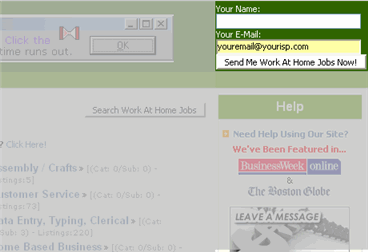 Featured Links:
Work at Home FAQs
We've been featured in:






Work at Home Careers.com
is an industry recognized source of Free, legitimate
Work at Home Jobs.

Featured Work at Home